Translational Perioperative and Pain Medicine (ISSN: 2330-4871)
ARTICLE DOI: 10.31480/2330-4871/086
LETTER TO EDITOR OPEN ACCESS
Critical Hyperkalemia During Neurosurgery
Ke Gu, MD*
Department of Anesthesiology,Sanbo Brain Hospital, Capital Medical University,Beijing, China
*Corresponding author: Ke Gu, MD, Department of Anesthesiology,Sanbo Brain Hospital, Capital Medical University, No.50 Xiang Shan Yi-Ke Song Haidian Distric,Beijing, China, Tel:+8613488869186, E-mail: gukewww@sina.com
Editor: Renyu Liu, MD, PhD, Associate Professor, Department of Anesthesiology and Critical Care, Perelman School of Medicine at the University of Pennsylvania, 336 John Morgan building, 3620 Hamilton Walk, Philadelphia, PA 19104, USA, E-mail: liur@uphs.upenn.edu
Received: January 30, 2019 | Accepted: February 23, 2019| Published: February 26, 2019
Citation: Gu K. Critical Hyperkalemia During Neurosurgery. Transl Perioper & Pain Med 2019; 6 (2):47-48.
---
To editor
---
The occurrence of critical hyperkalemia (blood gas potassium level greater than 6 mmol/L) in elective neurosurgery is not uncommon [1,2], however, life-threatening complications are rare with careful monitoring, rapid diagnosis and immediate proper management. To diagnosis and management hyperkalemia in perioperative period is one of the basic skills that anesthesiologists or any anesthesia provider should have.
From 2008 to present, 25,000 neurosurgeries had been operated in our hospital. With the Internal Review Board approval from Sanbo Brain Hospital, Capital Medical University. We retrospectively review all the neurosurgery cases from 2008 to 2017 in our hospital. Thirty-five critical hyperkalemia were detected in total of 21,525 elective neurosurgical cases as shown in Figure 1. One patient complained heart area uncomfortable after he was taken to the OR. A critical hyperkalemia (14.1 mmol/L) was found by blood gas test. The operation was suspended. The standard rescue treatment was used for this patient and he recovered well. The critical hyperkalemia was found after anesthesia in 23 patients in the first blood gas examination, 8 patients were found in the 2nd blood gas examination, 2 patients were found in the 3rd time test, and only 1 patient still had critical hyperkalemia in the 4th time test. Insulin was used in most cases of critical hyperkalemia (19 in 35 patients).
Figure 1: The potassium level changes in these with hyperkalemia over time.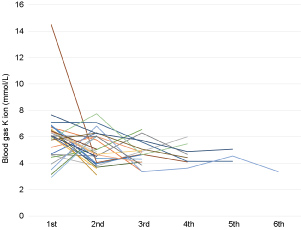 References
---
Chen HL, Zhu B, Yao L. Hyperkalemia after Administration of Hypertonic Mannitol: Two Case Reports. Transl Perioper & Pain Med 2018; 5(4):101-104.
Meng L. A Wish List to any Case Report. Transl Perioper & Pain Med 2019; 6(1):3-4.
Mihir Prakash Pandia, Parmod Kumar Bithal, Meenu Gupta. Life-Threatening Hyperkalemia in the Intraoperative Period. J Neurosurg Anesthesiol 2004; 16(3).
---